Privacy Policy
The Practicing Musician S.P.C.
Last updated: 7/31/2020
This Privacy Policy ("Policy") applies to all products, services, and websites (the "Services") offered by The Practicing Musician S.P.C., a Washington social purpose corporation (referred to as "us," "we," "our").
Your privacy is important to us. We've laid out below what information we gather, how we use the information, the limited circumstances when information may be shared, and the rights available to you. We recognize your right to confidentiality and are committed to protecting your privacy. We use the information that we collect to provide you with the best experience possible and to communicate with you about our products, services, and promotions.
If you have any questions about this Policy or wish to exercise your rights as described in this Policy, please feel free to contact us through our website at https://app.practicingmusician.com/contact-us, or write to us at info@practicingmusician.com.
Personal Information We Collect
User Data
Data we collect from you directly. In order to use the Services, you will need to input certain information to create a user account, including your first and last name, and email address. You may submit other content to personalize your account, such as adding a username or the instrument that you play. You may also upload your answers to quiz questions and videos of your playing for your teacher to review. Additionally, if you choose to rent an instrument via our Services, our service providers will collect your address and payment information. Collectively with your account information, this information is referred to here as "User Data".
You are solely responsible for your User Data. You assume all risks associated with use of your User Data, including any reliance of its accuracy or completeness. User Data may include third-party content, and you agree not to submit third-party content unless you have the consent of the applicable third-party owner of the content. Because you are solely responsible for your User Data, we make no guarantees regarding the accuracy, currency, or quality of any User Data.
If you have created an account at the direction of a school official, information we collect from you to deliver lessons, lesson feedback and instrument rentals may be protected under the Family Educational Rights and Privacy Act ("FERPA"), a Federal law that protects the privacy, security and accuracy of student education records. In these situations, we deliver services as a "school official," where appropriate, and take steps to ensure our Terms of Service is consistent with the rights and protections schools are required to provide to their students. Schools and their agents are responsible for the actions of their users on our Services.
Your Communications with Us. We collect personal information from you such as your name or email address when you request information about our Services, register for our newsletter, request customer or technical support, apply for a job or otherwise communicate with us.
Social Media Content. We may offer forums, blogs, or social media pages and discussion boards. Any content you provide on these channels will be considered "public" and is not subject to privacy protections.
Data we collect automatically when you use our Services. We may collect certain information automatically when you use the Services. This information may include your Internet protocol (IP) address, user settings, cookie identifiers, mobile identifiers, general location information (as determined by IP address), pages that you visit before, during and after using the Services, information about the links you click, and other information about how you use the Services. Information we collect may be associated with accounts and other devices.
In addition, we may automatically collect data regarding your use of our Services, such as the types of content you interact with and the frequency and duration of your activities. We may combine your information with information that other people provide when they use our Services.
Storage of Data
We store the personal information we receive as described in this Policy for as long as you use our Services or as necessary to fulfill the purposes for which it was collected, provide our Services, resolve disputes, establish legal defenses, conduct audits, pursue legitimate business purposes, enforce our agreements, and comply with applicable laws.
Personal Information from Children under the Age of 13
Our collection of personal information from children under the age of 13 on the Website is intended to follow the principles of the Children's Online Privacy Protection Act ("COPPA"), a U.S. law designed to protect the online privacy of children under the age of 13. We've detailed below the steps we take to comply with COPPA in collecting and protecting personal information we receive from children under the age of 13 on the Website:
We require consent from a child's parent, guardian, or school before asking for personal information through the Website, unless the information collected falls within an exception that would be permitted under COPPA (e.g., preventing fraud)
When our Services are directed by a school or school official, we rely on each school to obtain and provide appropriate consent and disclosures, if necessary, for us to collect personal information directly from students under the age of 13, as permitted under COPPA.
Other than usernames and comments, we do not make personal information collected from children publicly available, and we do not enable children to publicly display their information on the Website. We will not condition a child's participation in any activity or service on the disclosure of more personal information than is reasonably necessary to participate in the service.
Parents may contact us at info@practicingmusician.com to review, update, or delete any of their children's personal information that we may have collected and to instruct us not to collect any additional personal information from their children moving forward. If we become aware that a child has provided us with personal information without their parent or guardian's consent, we will delete the child's information, unless we have a legal obligation to keep it, and terminate the child's account.
We will update this Policy from time to time by posting the updated Policy online and sending users notice by email. We will not change how we handle previously collected information without providing notice and obtaining parental consent where necessary.
Children under the age of 13 are not permitted to use the discussion boards or share videos to other users on the Website. Any use or access to a discussion board by any user under the age of 13 is strictly prohibited and violates our Terms of Service. We reserve the right to restrict access to and remove any content from discussion boards if we believe the use was in violation of our Terms of Service.
Cookies and other Analytics
We use "cookies" to collect certain information from all users, including website visitors who do not use or purchase anything from us. A cookie is a string of data that our system sends to your computer and then uses to identify your computer when you return to our Website. We use this information to better engage with our users and enhance their overall experience.
We may also use Google Analytics and other service providers to collect information regarding visitor behavior and visitor demographics on our Services. For more information about Google Analytics, please visit www.google.com/policies/privacy/partners/. You can opt out of Google's collection and processing of data generated by your use of the Services by going to http://tools.google.com/dlpage/gaoptout.
How We Use Your Data
We use User Data for a variety of business purposes, such as to create and maintain your account, improve our Services, detect security incidents, analyze and measure your engagement with our Services, communicate with you about the Services, offer additional products, services, and promotions where appropriate and legally permissible, bill for Services, to enforce our Terms of Service, and to prevent imminent harm to people or property.
Disclosure of User Data
We may share your User Data with the following categories of third parties:
With our third-party service providers who use that information to help us provide our Services. This includes service providers that provide us with IT support, hosting, payment processing, customer service, and related services.

If another company acquires our company, business, or assets, with such acquiring company;

When directed by you or your school, such as to disclose to a third party to provide a musical instrument rental, and

As required by law and when we believe disclosure is reasonably necessary to comply with a judicial proceeding, court order, or legal process served on us, to protect our rights and the rights of our users, or to enforce or apply our Terms of Use or other policies or user agreements.
You agree that all information processed by us may be transferred, processed, and stored anywhere in the world, including but not limited to, the United States or other countries, which may have data protection laws that are different from the laws where you live. We have taken appropriate safeguards to require that your User Data will remain protected and require our third-party service providers and partners to have appropriate safeguards as well. Further details can be provided upon request.
Security of User Data
We take appropriate security measures to protect against unauthorized access to or unauthorized alteration, disclosure or destruction of User Data. Unfortunately, no system is 100% secure, and we cannot ensure or warrant the security of any information you provide to us. To the fullest extent permitted by applicable law, we do not accept liability for unintentional disclosure.
If User Data is compromised as a result of a security breach, we will, in accordance with applicable law, promptly notify you via email, by posting a notice on our website, or as otherwise required through other methods required under applicable law.
Third Party Sites
Our website may contain links to and from other sites or services operated and maintained by third parties. We have no responsibility for linked websites, and we provide these links solely for your convenience and information. Advertising and linked sites are not enabled for school-based services.
Your Privacy Rights
In accordance with applicable law, you may have the right to:
• Access Personal Information about you, including: (i) confirming whether we are processing your personal information; (ii) obtaining access to or a copy of your personal information; and (iii) receiving an electronic copy of personal information that you have provided to us, or asking us to send that information to another company (the "right of data portability");
• Request Correction of your personal information where it is inaccurate or incomplete. In some cases, we may provide self-service tools that enable you to update your personal information;
• Request Deletion of your personal information;
• Request Restriction of or Object to our processing of your personal information; and
• Withdraw your Consent to our processing of your personal information.
If you would like to exercise any of these rights, please contact us via https://app.practicingmusician.com/contact-us or email us at info@practicingmusician.com. We will process such requests in accordance with applicable laws.
Opting Out
Not Providing User Data
You can choose to not provide User Data, although failing to provide User Data may prevent or inhibit your use of the Services and affect our ability to adequately respond to your requests. In addition, most browsers allow you to block or delete cookies. However, if you do that, the Services may not work properly.
Opting Out of Emails
If you do not want to receive e-mail or other mail from us, you can adjust your account settings to opt out of receiving such communications or choose to unsubscribe from the link in the e-mail that you no longer wish to receive.
"Do Not Track"
Do Not Track ("DNT") is a privacy preference that users can set in certain web browsers. Please note that we do not respond to or honor DNT signals or similar mechanisms transmitted by web browsers.
Supervisory Authority
If you are located in the European Economic Area or the UK, you have the right to lodge a complaint with a supervisory authority if you believe our processing of your personal information violates applicable law.
Changes to This Policy
By using the Services, you acknowledge your User Data will be collected, used, and disclosed according to the terms of this Policy. We reserve the right to modify or amend this Policy at any time. If we make material changes to this Policy, we will notify you in accordance with applicable law, for instance by providing the updated Policy on our website, sending you an e-mail, or posting a notice on our website so that you are always aware of the information that we collect, how we use it, and under what circumstances we disclose it. Unless we clearly state otherwise, the changes to our Policy will affect only the information we collect after the effective date of the change.
If you have any questions or concerns regarding any of the terms of this Policy, please feel free to contact us at info@practicingmusician.com.
Supplemental Notice for California Residents
This Supplemental California Privacy Notice only applies to our processing of personal information that is subject to the California Consumer Privacy Act of 2018 ("CCPA"). The CCPA provides California residents with the right to know what categories of personal information we have collected about them and whether we disclosed that personal information for a business purpose (e.g., to a service provider) in the preceding 12 months. California residents can find this information below: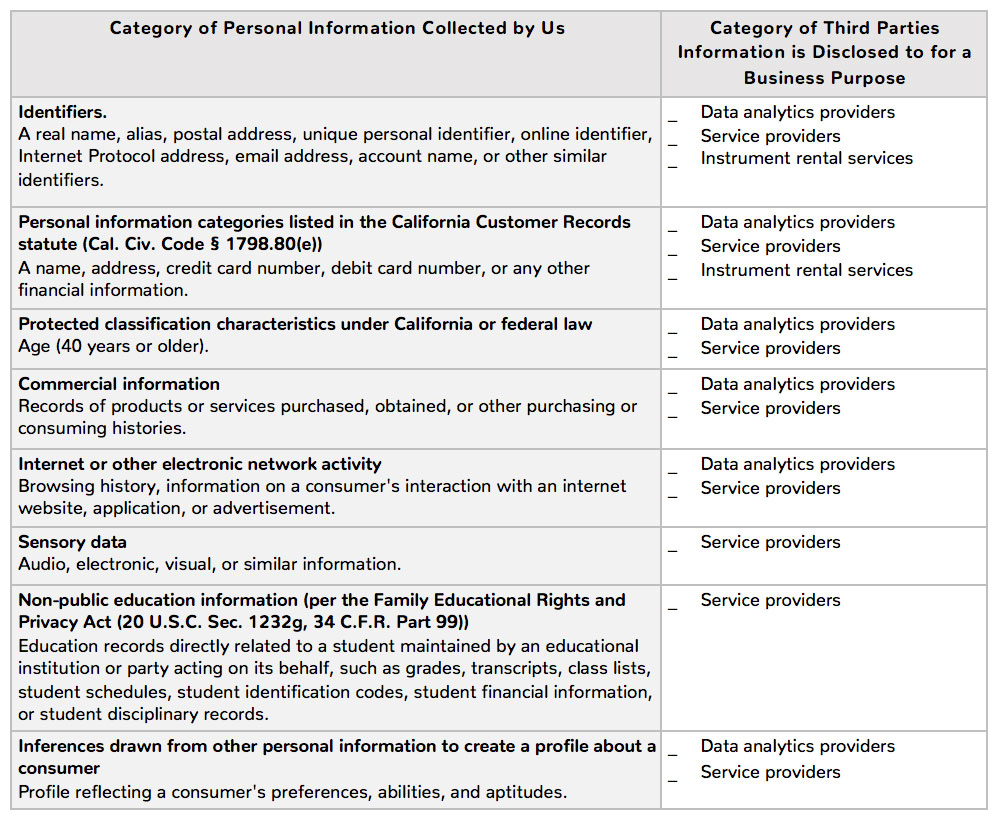 The categories of sources from which we collect personal information and our business and commercial purposes for using personal information are set forth above in "Information We Collect" above. For purposes of the CCPA, we do not "sell" personal information, nor do we have actual knowledge of any "sale" of personal information of minors under 16 years of age.
Additional Privacy Rights for California Residents
Non-Discrimination. California residents have the right not to receive discriminatory treatment by us for the exercise of their rights conferred by the CCPA.
Authorized Agent. Only you, or someone legally authorized to act on your behalf, may make a verifiable consumer request related to your personal information. You may also make a verifiable consumer request on behalf of your minor child. To designate an authorized agent, please contact us as set forth in this Policy.
Verification. To protect your privacy, we will ask you to provide sufficient information that allows us to reasonably verify you are the person about whom we collected personal information or an authorized representative, which may include answering questions about your use of our Services.
Consumer Rights Requests. If you are a California resident and would like to exercise any of your rights under the CCPA, please contact us as set forth above. We will process such requests in accordance with applicable laws.
Accessibility. This Policy uses industry-standard technologies and was developed in line with the World Wide Web Consortium's Web Content Accessibility Guidelines, version 2.1. If you wish to print this Policy, please do so from your web browser or by saving the page as a PDF.
California Shine the Light. The California "Shine the Light" law permits users who are California residents to request and obtain from us once a year, free of charge, a list of the third parties to whom we have disclosed their personal information (if any) for their direct marketing purposes in the prior calendar year, as well as the type of personal information disclosed to those parties.
Supplemental Notice for Nevada Residents
If you are a resident of Nevada, you have the right to opt-out of the sale of certain Personal Information to third parties who intend to license or sell that Personal Information. You can exercise this right by contacting us at info@practicingmusician.com with the subject line "Nevada Do Not Sell Request" and providing us with your name and the email address associated with your account. Please note that we do not currently sell your Personal Information as "sales" are defined in Nevada Revised Statutes Chapter 603A.